Seasoned expert Gary Sanders has partnered together with MuniBilling to help give readers an in-depth look into the world of Utility Billing Systems.

For today's Ask The Expert blog we'll be focusing on how recent changes to the United States Postal Service can impact your billing operation.
---

Q: So what's going on with the Postal Service right now?

A: That's a great question because there are multiple things happening with the Postal Service that may be impacting you and your customers.



---
Q: So more specifically, what is this I've been hearing about slow delivery times?

A: On October 1st of last year, a new delivery standard for First Class mail went into effect. Rather than taking a maximum of three days for First Class mail to be delivered to far-reaching destinations, it will now take five days.

While this may not affect most of your customers who receive their mail within your service area (which is now a two-day delivery time), it may impact commercial customers where the utility bill is mailed to a home office out of state.

And many of these commercial customers may be your larger users who incur higher than average utility bills. When you realize that the same increase in delivery also impacts the delivery of your customer's check, you could find your utility in a much different cash flow environment than you were a year ago.

Since a picture is worth a thousand words, here's a graphic from the Postal Service depicting delivery times from MuniBilling's Greensboro, NC ZIP code of 27410: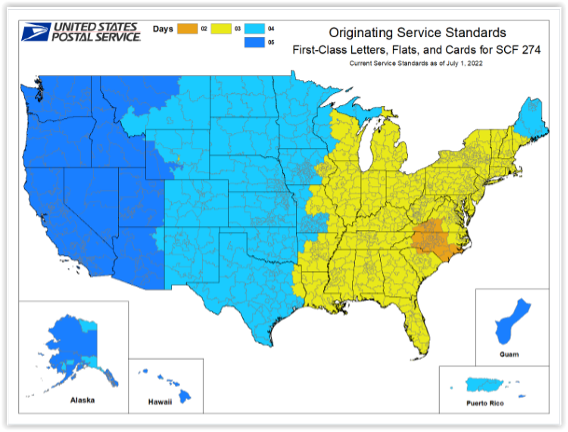 The compact, orange-colored area is a two-day delivery time and the rest of the country is three to five days, depending on how far away they are.

You can see a similar map for your utility by using this link from the Postal Service - https://postalpro.usps.com/ppro-tools/service-standards-maps. Keep the default options of Originating and First-Class Letters & Flats and select the first three digits of your mailing ZIP code. This will give you an indication of what to anticipate for delivery times for your bills.
---
Q: What does this mean about postage rates?

A: On July 10 of this year, the second postage rate increase in a year went into effect. This increased the cost of a First Class letter to $.60 and a Postcard to $.44. If you are using CASS certification or outsourcing for automation discounts, you will pay discount rates from these new prices.
---
Q: Then what does this mean for your utility?

A: The obvious answer is you are going to pay more for postage – especially if you are still sending postcard bills. This is the second consecutive four cent increase in postcard rates. Up until the two most recent price increases, most postage rate increases saw First Class postage increasing more than the Postcard rate.

For those rate increases where the Postcard rate did increase more than the First-Class rate, it was never by more than a penny, except for January, 2012 when the postcard rate increased by 3 cents and First Class only by a penny.

I think the handwriting is on the wall that postcards have fallen out of favor with the Postal Service and I would expect future rate increases to continue this trend.
---
Q: So then, what can be done about this?

A: First of all, if you're still printing bills in-house, outsourcing is a logical next step. A few years ago, outsourcing didn't make sense for smaller utilities, but that has improved and even small utilities can get competitive rates from an outsource vendor.

The ideal scenario is to move to outsourcing that also includes the option to offer eBilling so your customers who prefer to receive their bills electronically, rather than wait for a paper bill to arrive in the mail, can do so. I travel quite a bit for work and I receive all of my bills electronically and wouldn't have it any other way!

About a year ago, I worked with a small utility that was in the process of changing software. As part of that process, they were planning to move from printing postcard bills in-house to outsourcing a full-page bill.

The General Manager of that utility was hoping to encourage enough customers to opt in to eBilling, thus saving the postage and printing costs, so they would end up spending less to outsource a much more informative bill than they were paying to print a very minimal postcard in the office.

This is win on three fronts – lower postage cost, a more informative bill, and less office staff time to print, prepare, and mail bills. I took this manager's idea and created an Outsourcing Calculator on my website where you can enter how many bills you are currently mailing, how you are printing your bills, and the current costs other than postage (paper, printer supplies, labor, etc.). The calculator will then calculate what percentage of your customer base would have to opt in to eBilling for you to break even.

The other obvious advantage to eBilling is your customers receive an email notifying them that their bill is ready for viewing and they have access to it immediately, without waiting even the two days for local delivery.
---
Operational Analysis

Gary's 40+ years of experience in the industry has granted him valuable knowledge for any billing entity. With the wealth of his knowledge you can request an Operational Analysis for your organization from him!

You may be wondering, what exactly is an Operational Analysis? Well, it essentially is when Gary looks through ALL of your systems, and interviews your team, to figure out how best you can improve your billing operations.

Here are a few of your organization's systems that Gary will assess:


Billing System

Accounting System

Metering System

Service Delivery System

The end goal with this analysis is to figure out how to best save your organization time and money. This could also mean suggesting another company's platform if it's the better fit for YOU.


Gary has hosted his own blog for the past ten years. Some of his more notable credentials is that he has designed, built, implemented, and supported both ERPs and Utility Billing Systems. Thankfully, he's only a hop, skip, and jump away.