There are hundreds of Utility Billing Systems out there, and choosing just one can prove difficult.
Are you feeling overwhelmed trying to pick one? Maybe you're worried about picking the wrong one?
Don't fret just yet!
There are numerous people out there who are struggling just like you. That's why we've put together a Utility Billing System laundry list of things you may want to consider.



From narrowing down the essentials you'll need from your new platform, the decisions can start to feel a bit daunting.


We know the dilemma you're facing, and we want to offer an easy-to-follow guide to make choosing your new Utility Billing System.

Let us help you take that first step into a new platform!


1. Make A List Of Your Requirements

Before you start shopping for a new system, take the time to make a list of your requirements. It can be easy to forget everything you'll need with your new Utility Billing System, so writing them down can be extremely beneficial in helping you remember.

Here are some common questions our customers like to ask us:

What is your total ownership investment?

How much time does your staff have to devote to system training?

Do you have a mapped out billing process established from move in usage measured to move out?

What is your process for handling incoming phone calls and how will your potential billing system react to that?

Do you handle seasonal visitors and how easy is it for your potential billing system to turn billing off and on periodically?

Is your system customer built for utility industry challenges?

Does this system reflect multiple payment options for your customers?


These are just a few of the questions we get all the time that may be worth understanding before setting off on your search.


It's also important to consider who exactly on your team will be using your Utility Billing System. If your organization invests in a platform that doesn't connect well with your team, then that's not only money lost, but time lost trying to pick up the pieces.

Consider asking your team what features would help them with your new platform. Collaboration is always key when it comes to helping the whole organization!


2. Analyze and Plan For Your Current And Future Needs
Not all systems that can create and distribute bills are setup for your entity's unique needs. Some systems are designed for small businesses, while others are geared towards larger organizations.

Do you bill for an entire county or are you more specified for a smaller town? Your needs should factor into a solution more than a solution will factor into your needs.
Consider gathering your team together to brainstorm exactly what your entire organization is in need of. They say great minds think alike, so let the great minds of your team discern what you need!


Here are Some of the Most Common Utility Billing Specific Needs We've Heard From Our Customers:



1. Accurate Billing of Metered/Non-Metered Usage



This may seem like a given, but the software should be able to track metered and non-metered usage for each customer and parcel accurately in order to generate correct bills quickly and efficiently.


2. Automated and Correct Invoicing
The software should be able to automatically generate invoices
based on usage data. This can eliminate the need for manual intervention.

If your platform isn't automated, then it means several of your team members are tied up generating invoices. Something that can easily be handled through the technological advances of the 21st century.

3. Customer Self-Service Portal



The software should provide customers with a self
-
service
portal where they can vi
ew their account information, past bills, etc.

An easy-to-use customer portal can mean the difference between an unsatisfied customer and a satisfied one. Don't leave your customers disappointed when it comes to paying their bills on time.

4. Support For Secure, Diverse, and Robust Payment Services
The software should support a variety of payment methods because your customers expect to pay with modern payment methods. Your solution should including online payment, direct debit, and checks.
Your system should also have industry standard security that protects your users information, either natively on platform or through third party audited payment partners



5. Real-Time Reporting and Analytics
The software should provide detailed historical and current r
eports on account activity
, payments, and usage by both resident and parcel. This information can be used by your team for customer support, billing, and financial
analysis.

6. Integration With Other Systems




The software should be able to integrate with other systems, such as accounting software, operational software, and CRM systems, to provide a more comprehensive view of the customer and billing process.


Utility Billing Systems are large, mission critical investments, so looking and planning ahead for not only your current pain points, but those you may encounter will set your organization up for long term success and efficiency.

3. Evaluate The Ease Of The Software
When you are evaluating a Utility Billing System, be sure to take a close look at the software. Usually, there's more than what's shown on the surface level.
How user-friendly is it?
Is it easy to navigate?
Can you create reports and invoices?
When considering your Utility Billing Software, you want to make sure it's not only easy for your billing clerks and managers to use, but also for your customers.

There are many platforms out there that don't make the process of scheduling and paying bills very easy. Finding a Utility Billing System with an easy-to-navigate customer portal makes utility billing simple!

The software should be easy to use and provide the flexibility you need to manage your utility billing operations.
When your Utility Billing System is competent and capable on its own, it can free up your team's time.
Obviously, you will need to ask for those specific needs your entity has identified are important from section two, But here are some other less common questions we've seen that are important to ask.
How flexible is the system to my processes versus how much do our processes have to change to fit this system?
Is the system infrastructure setup for Security, Redundancy, and Resiliency?
What does customer support look like?
How easy is it to implement the software? How much support will we have?
Are there any opportunities to take redundant tasks off of our team's plate?
With newly free time you can allow your team to focus on other bigger tasks. That's why it's important to evaluate your new Utility Billing System with your whole team in mind.


When choosing a Utility Billing Software, it is important to make sure that it includes all of the above functionalities and operations. If the platform is lacking these features, it could lead to billing inaccuracies and inefficiencies. Thus, resulting in problems for your team and your customers.


4. Compare The TRUE Prices

Not all systems are created equally, and the price you pay for a system can vary significantly. This means you'll want to check to see what each price includes for the platform.

Sometimes the initial price for a Utility Billing System won't include any additional upgrades you may need later on as your company develops and grows.
There's a term in the industry called the Total Cost of Ownership (TCO), which refers to exactly how much your organization is going to pay regarding your Utility Billing System.

TCO includes your generalized costs such as the purchase price, installation, maintenance, and potential opportunities. However, organizations tend to not think about the long-term costs such as labor, platform updates, and so on.
By being able to calculate the TCO of a platform you can better compare which Utility Billing System is ideal for you. That's why it is important to compare prices and find the system that fits your budget.
5. Ask For References
When considering a new utility billing system, be sure to ask for references. Consider talking to other businesses that have used the system and get their feedback. Does the Utility Billing Software you're considering have a reviews section on their website?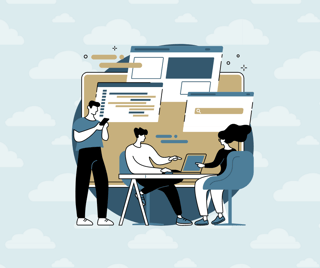 Typically, if a company's software works well for people, they're inclined to share those success stories with potential new clients. Reading these testimonials will help you to make an informed decision.


Referencing review websites is also a great resource. With free platforms like
Capterra
, you can get real everyday opinions paired with a comprehensive software search engine. If you don't know where to start looking, then websites such as these can help you do just that.
6. Request A Demo
Before you make a final decision, be sure to test run the platform by requesting a demo. A demo will allow you to see how it works in actuality and determine if it is the right fit for your organization.
Utility Billing Software companies will tend to offer first-hand demos of their platforms with only a simple submission form. Sign up for a demo to see exactly what the platform can do and ask questions along the way.
Demos are a great resource because you can bring your whole team along if you wanted to. Maybe someone on your team can't make it? Ask the Account Executive giving the demo if they'd be able to record it for you.

If a Utility Billing software is good in what they do, then they're going to use their demo time to show you exactly what will be available for you and your team.


You can typically go onto a Utility Billing System's main website to find a demo form to fill out. With submitting simple information like your name, phone, email, and company's name, you can set up the time to get the specific details you're in need of.